Make the Most of Rigor with These Five Features
As technology becomes more complex and as systems become more fragmented, implementing digital experience monitoring and optimization initiatives may seem daunting at first. Digital experience monitoring is experiencing a culture shift from retooling workflow to become more agile and innovative. Changes in culture and process can also bring friction among teams as responsibilities shift and operational lines blur. The more you can automate the development lifecycle and the more efficiencies you can add into your workflow, the easier it will be to shift into this new nimble landscape of digital business.
In this article, we will review five simple tools that you can begin to integrate into your monitoring and optimization plan to help increase efficiency and ease the burden on your DevOps team.
1. Integrate Communications for Actionable Notifications
Notifications are only helpful when you get them where you'll see them and when they are targeted so you don't ignore them. With teams now relying on chat systems, like HipChat and Slack, email is no longer the best way to receive notifications.
With Rigor's built-in administrator tools, you can use alert webhooks to notify an HTTP endpoint, including a company chat application, when a Real Browser or Uptime check fails.
Simply select from a list of pre-configured services, including HipChat, OpsGenie, PagerDuty, and Slack, or configure a webhook to send your alert to a custom endpoint. Then, edit the Rigor check to notify the webhook. Rigor alerts will now post to your selected endpoint.
Integrating with chat systems has the added benefit of the inherent one-to-many system, since multiple people are in a chat room or channel at once. This can help prevent partitioning of alerts and information, and work to ensure that the right people get the message quickly.
You can also leverage the alerting, searching, and archiving native to the chat solution to safeguard against lost notifications. Automate reporting processes by utilizing chat bots to log performance tickets, and to allow your team to receive and to respond to operational alerts.
2. Assess Trends in Releases
At Rigor, it's part of our mission to facilitate a culture shift in DevOps by automating identification, prioritization, and resolution of performance defects before they become an issue for your end users. That's why we encourage you to test early and test often. It's also important to analyze performance changes before and after each deploy to quickly identify any degradations before moving forward.
This is where Rigor's Event Annotation API can help. First, use the Recent Activity stream available in Rigor's Real Browser and Uptime checks to view any alerts from triggered notifications. Furthermore, the Annotation API can be configured to add events that serve as a record of what changes were made and when they occurred, making it easier to identify performance issues or regressions as they arise.
Using Control Groups along with the Rigor Annotation API will enable you to add an annotation when making changes on the fly.
To set up your annotations first create a Control Group with the check(s) you wish to annotate. Control Groups manage settings for a group of checks using a single command. Then, send a request to the API endpoint with the Control Group and the annotate command, with an option message and title.
Finally, visit the Performance History or Activity Stream for any check in your Control Group to view the annotation. Rigor will automatically add a timestamp to each annotation for easy reference.
3. Narrow the Scope for Focused Analysis
Having too much information can be as disconcerting as having too little. Avoiding "information overload" is key to making timely and judicious decisions. On the topic of overload, psychologist David Lewis writes:
Among other problems, information overload can lead to a paralysis of analysis, making it harder to find the right solutions or make the best decisions.
Getting an overall picture of your site's performance is a great approach to performance management, but sometimes a more focused approach is the way to go. For example, if your development team is making changes to your site, you may want to test the performance of a page without specific resources loading. These resources might include third-party services (pop-ups, videos, etc.) or internal files that are known to cause performance issues. Focusing your analysis on including only relevant domains, directories, and files can help cut down on the noise, enabling your team to direct its attention where it belongs.
For a more targeted analysis, use the Exclude Files feature to control what resources Rigor will load when performing a Real Browser Check. Simply select your exclusions from a list of pre-defined filters for common third-party files or use a custom input field to exclude a specific domain, resource, or directory.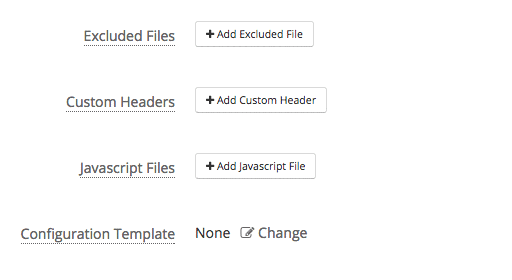 4. Use Thresholds to Automate Performance Alerting
Getting ahead in technology is all about maximizing efficiency, and the more steps in your development workflow you automate, the more efficient your team can be. Rigor Monitoring's automatic alerting enables you to implement checks based on thresholds you create to align your site performance with key performance indicators (KPIs) for your specific business needs.
Use Rigor's Real Browser and Uptime Checks to monitor:
     

Average Response Time

     

Slowest Response Time

     

Fastest Response Time
(Note: These times represent the total time for the check to run. If the Real Browser or Uptime check has multiple steps, the response time represents the sum of the load time for each page accessed during the check.)
Rigor Monitoring by default will automatically send an alert for any check that takes longer than 120 seconds, or you can choose to configure a custom Response Time monitor to define a lower threshold to match your KPIs. These response time monitors can make alerting more proactive, enabling your team to enforce best practices before performance defects become an issue for your end users.
5. Analyze Complex Functions with Advanced Scripted Testing
Automating checks in commonly used data and functions are another way to increase efficiency and reduce maintenance overhead. Combining Rigor's Real Browser Checks along with our API Checks enables you to customize JavaScript tests to analyze content within a specific user flow. These checks go beyond simple interactions such as "Click" or "Fill in Field," to more complex interactions that could require running JavaScript or saving custom variables to be used in later steps.
Some examples of how JavaScript can be used in checks include:
     

Clicking on an element not accessible by a browser

     

Executing instructions based on conditional statements

     

Sending data via POST request

     

Running custom functions on a webpage
Rigor offers two ways to run JavaScript within a user flow:
Run JavaScript

– This check step simply runs the snippet of JavaScript code you wish to test

Save Return Value

– This check step runs a snippet of JavaScript code and saves a variable returned from the code (e.g., dates, timestamps, randomized data, or unique identifiers)

Takeaways
Make sure you are getting the most out of Rigor by implementing these five easy (but effective) tools into your monitoring and optimization workflow. Each of these tools helps automate processes within your workflow, thereby reducing the burden on your team and providing only relevant data for target decision making. For more information on these and other Rigor tools and features, visit the Rigor Knowledge Base.